CyberSoC Capital helps Identify and combat cyberthreats across all your cloud services with Microsoft Cloud App Security (MCAS), a cloud access security broker (CASB) that provides multifunction visibility, control over data travel, and sophisticated analytics.
Moving to the cloud increases flexibility for employees and IT alike. However, it also introduces new challenges and complexities for keeping your organization secure. To get the full benefit of cloud apps and services, an IT team must find the right balance of supporting access while maintaining control to protect critical data.
CyberSoC Capital uses Microsoft Cloud App Security as a Cloud Access Security Broker (CASB) that supports various deployment modes including log collection, API connectors, and reverse proxy. It provides rich visibility, control over data travel, and sophisticated analytics to identify and combat cyberthreats across all your Microsoft and third-party cloud services.
We use MCAS natively integrates with leading Microsoft solutions and is designed with security professionals in mind. It provides simple deployment, centralized management, and innovative automation capabilities.
CyberSoC
Capital approach to CASB
Gain visibility into your cloud apps and services using sophisticated analytics to identify and combat cyberthreats. Control how your data is consumed, no matter where it lives. Microsoft Cloud App Security natively integrates with industry-leading security and identity solutions including Azure Active Directory, Intune, Microsoft Information Protection, and any other solutions you want to use.
Capabilities :-
---
Discover and control the use of shadow IT
Identify cloud apps and services your organization uses. Assess the risk levels and business readiness of over 17,500 apps against more than 90 risk factors and start managing them to ensure security and compliance.
---
Protect your sensitive information anywhere in the cloud
Understand, classify, and protect the exposure of sensitive information at rest, or use out-of-the box policies and automated processes to apply controls in real time and at rest across all your cloud apps.
---
Enable secure remote work and anomalies
Detect unusual behavior across cloud apps to identify ransomware, compromised users, or rogue applications. Analyze high-risk usage and remediate automatically to limit the risk to your organization.
---
Enable secure remote work with real-time controls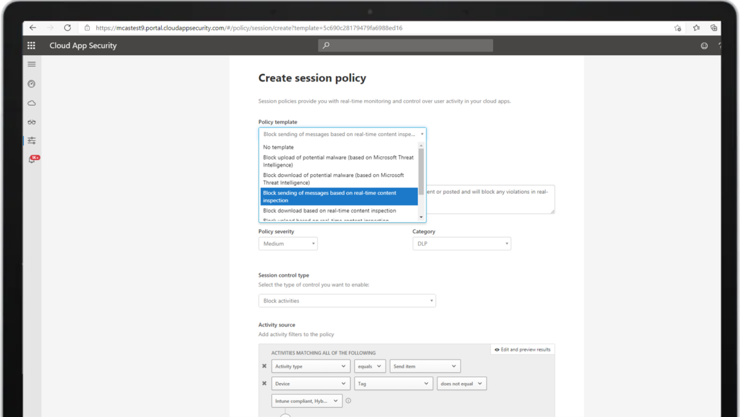 Use real-time controls to enable threat protection on all access points that touch your environment.
---
Manage your cloud security posture
Investigate all security configuration gaps with a multi cloud view of all cloud platform security configuration recommendations using Microsoft Cloud App Security.
---
WHY
do we use CASB?
We use CASB to better understand your overall cloud posture across SaaS apps and cloud services and, as such, Shadow IT discovery and app governance are key use cases. Additionally, an organization is responsible for managing and securing its cloud platform including IAM, VMs and their compute resources, data and storage, network resources, and more. Therefore, if you are an organization that uses, or is considering using, cloud apps to your portfolio of network services, you most likely need a CASB to address the additional, unique challenges of regulating and securing your environment. For example, there are many ways for malicious actors to leverage cloud apps to get into your enterprise network and exfiltrate sensitive business data.
As an organization, you need to protect your users and confidential data from the different methods employed by malicious actors. In general, CASBs should help you do this by providing a wide array of capabilities that protect your environment across the following pillars:-
Visibility :- Detect all cloud services; assign each a risk ranking; identify all users and third-party apps able to log in
Data security :- Identify and control sensitive information (DLP); respond to classification labels on content
Threat protection :- Offer adaptive access control (AAC); provide user and entity behavior analysis (UEBA); mitigate malware
Compliance :- Supply reports and dashboards to demonstrate cloud governance; assist efforts to conform to data residency and regulatory compliance requirements
---
---
Take
the Next Step in your Security Operations
Simply complete our online form and a member of the CyberSoc Capital Team will get in touch.